Spring
Spring newsletter/curriculum overview
Welcome back!
It may seem cold at the moment, but soon enough Spring will be upon us! Spring is a season for growth, so keep visiting this page to see how year 3 are growing this term!
A HUGE well done to all the children who completed their Home Learning! I was blown away with the effort put in by everybody once again! I think you can agree the caves were AMAZING!
Here are some pictures of the work we have been doing in Maths, to help us learn about fractions. Using practical methods has really helped our understanding - one thing is for sure, we would all make excellent staff at Domino's!
We have recently introduced two new awards in our class. Star Writer and Magic Mathematician. These awards will be awarded weekly to those children who produce some fantastic written and maths work. I look forward to seeing who will achieve the awards.
A big well done to our first winners, Erin and Reem - keep up the hard work girls! :)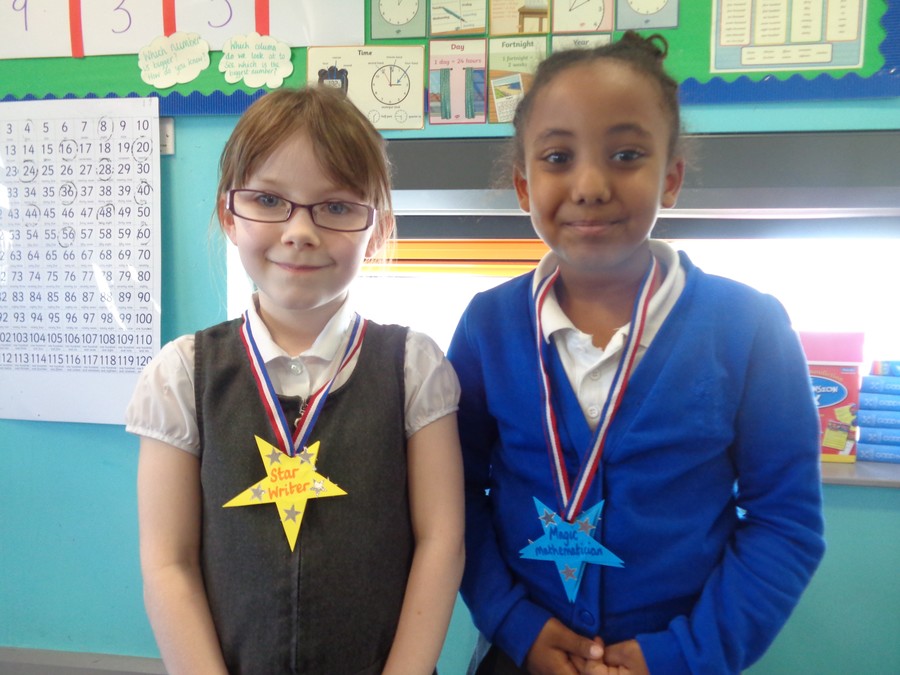 We have been learning all about light in science. So far, we have learnt what a light source is and why some things that seem like they are a light source are not, such as the moon! Today we set up an investigation to test reflective materials, we were given a challenge of finding the most reflective material for a school bag - it's important that we use reflective materials for items such as these so that we can be seen when we're walking home. We discovered that CD's and shiny paper were extremely reflective so would be good for putting a strip on a school bag. I wonder what other materials we could test?
Today, (Tuesday 7th March) we had the best day ever! We got on a coach and went to Summerseat where we visited a Stone Age hideaway. We had to traipse through deep, squelchy mud, but it was so much fun! When we arrived, we sat around a camp fire while we introduced ourselves and learnt some rules for the day. We then explored the area, learning lots of things and even trying Jelly Ear mushrooms! We were given time to explore before toasting brioche on the fire and drinking hot chocolate. After that, we learnt how to build a shelter using mammoth skin (tarpauling) and saber tooth intestines, (rope) before eating our lunch under our shelters! After lunch, we had the opportunity to play and climb trees, some of us got to the very top of some trees! After this, we listened to a stone age story and made bows, before making delicious s'mores on the fire! Yum! We had an amazing day!
This half term we are learning how to write non-chronological reports in English. We will be writing an information leaflet all about Skara Brae, once we have learned all the skills we need to write a good report. Today, we started our learning journey by looking at a WAGOLL, we identified the features in the text and we created a toolkit which will help us with our writing.
Congratulations to Michal who won the kindness award in assembly this week! Michal won the award for always being kind and helpful, especially to his teachers! Keep up the hard work Michal :)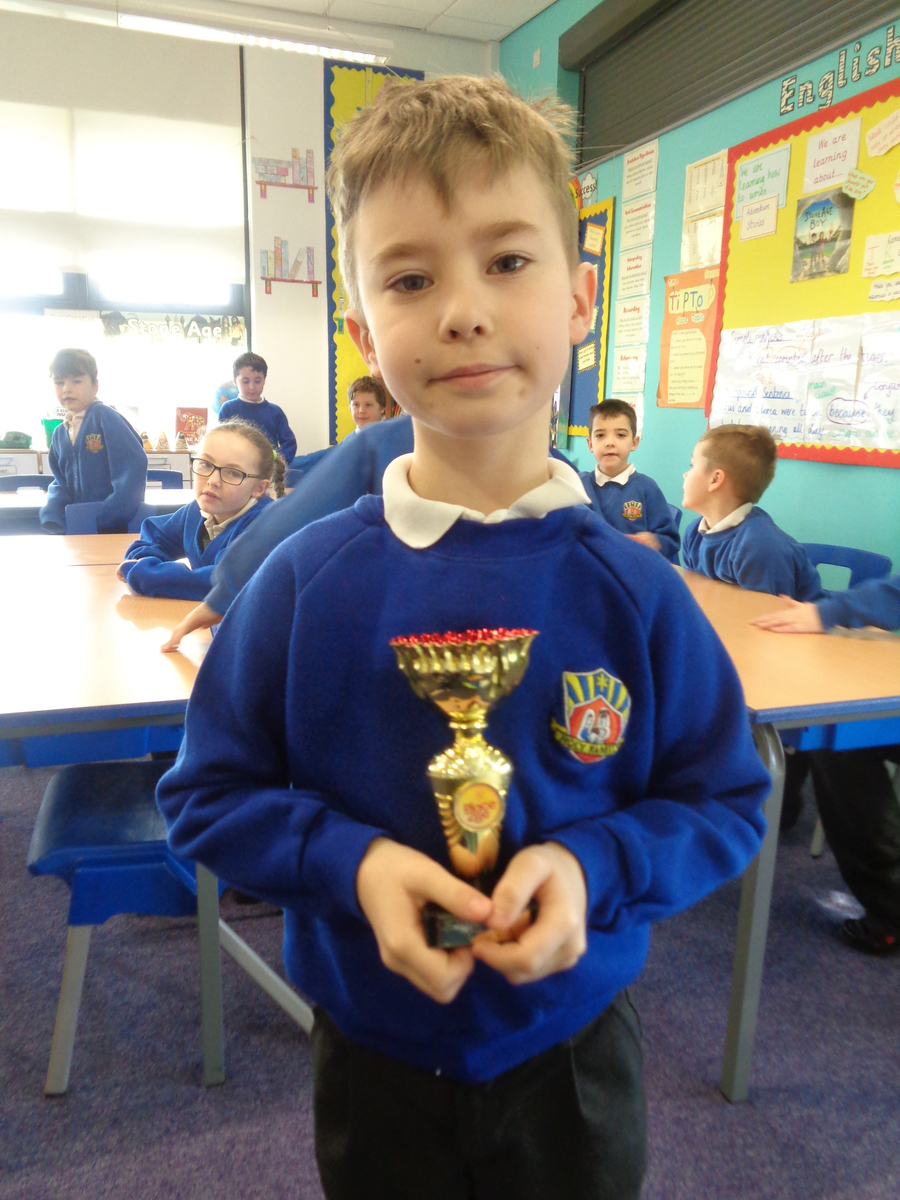 Thursday 2nd March
World Book Day
Thank you to everyone who got involved with World Book Day today by dressing up, participating in events such as these really does encourage the children to read for pleasure and enable a love for reading. We think the children looked great!
We've had a week off school and are back, ready and raring to learn!
Today we kick started our Creative Curriculum week by investigating the Neolithic Stone Age village; Skara Brae. We learnt all about the discovery of the Scottish settlement before using our knowledge to prepare and perform a news report. Have a look at some of our news reports, I think we've got some future news anchors in year 3! Watch this space!
In maths we have recently been learning about measures. This week, we have learnt all about capacity. Today, we had to create Stone Age solutions, we know that the Stone Age people didn't have doctors or hospitals, so they would make their own medicines. We had to make our own concoctions using Stone Age ingredients! We could choose from: Mammoth Mucus, Stone Age Stream, Essence of Sabertooth, Blood of Deer and Gross Grass. We measured each ingredient carefully before adding it to our mixture. We then named our solutions and calculated the total capacity.
Wednesday 15th February
This morning we had our half-termly open-morning. This time, parents and helpers came in to see what wonderful science work we do. We were very lucky to have Jason from the Salford Foundation in our class, to do fruit tasting and smoothie making with us. First, we learnt about each of the different fruits before getting the chance to taste them. Lots of us had never tasted fruits such as raspberries, mango or kiwi! When we knew about the fruits we then worked as a group to design a smoothie. Jason then made our smoothie for us so that we could taste them! We had a great morning, thanks again to all the parents and helpers who came :)
We have created a display of the Stone Age jewellery and cave paintings that we have created over the last few weeks. We think they look pretty cool! What do you think?
This week, in French with Mr Walsh, we have been learning how to sing 'The farmer's in his den.' Watch us sing and see if you recognise any of the words!
On Saturday 28th January, most of our year three children attended their Presentation Service at St James' church. The children are currently on their sacramental journey, where they are growing closer to God. In May the children will make their Holy Communion for the first time and Saturday showed us just how much this class are growing in the love of God.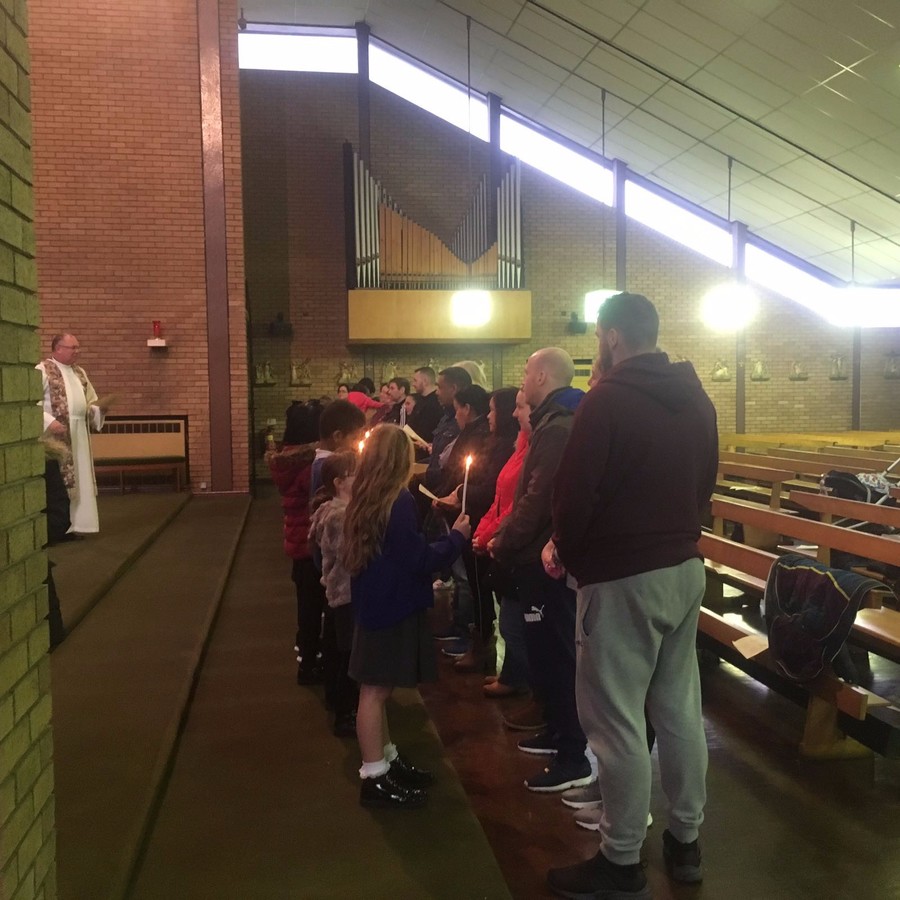 Our new Creative Curriculum topic is Stone Age. The children have thoroughly enjoyed their first Creative Curriculum week and have learnt so much about the Stone Age already! We have learnt what life in the Stone Age was like; we have learnt how important hunting was; we have created cave paintings and understand that Stone Age people could not communicate as we do and we have designed and made Stone Age jewellery. We can't wait for our next Creative Curriculum week!