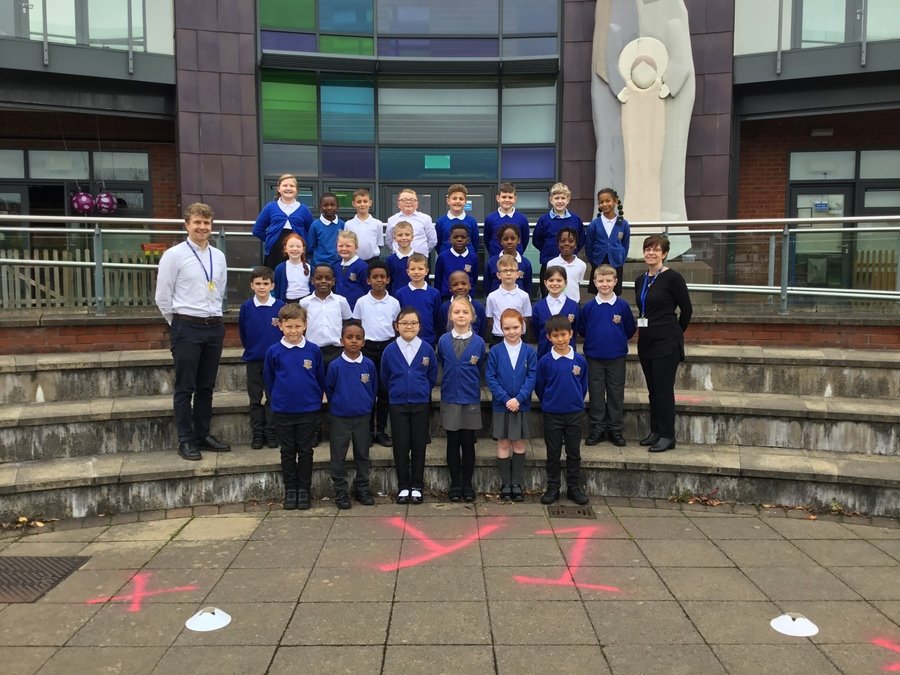 Year 4 book recommendations
Hello Year 4! More news and class photos coming soon.
Hard work and determination was rewarded in year 4 today, with Joshua, GJ and Asair gaining their pen licenses. Congratulations and keep it up!
Feast day of St Catherine of Siena
On Thursday 29th April, Year 4 celebrated the feat of St Catherine of Siena by having a party. They played some games, ate some food and prayed together. We had a great time on the feast day of our class saint.
Today, Year four created six different sculptures in Their Art lesson. First they learned about Andy Goldsworthy and looked at the sculptures he has made. Drawing inspiration from this, Year four created sculptures that drew together the natural with the man-made.
Today, Jenson and Serena received their pen licence. Well done!
We took part in some Easter focused prayer stations in Holy Week. The children reflected and remembered different parts of the Easter story. This orientated their prayers and actions.
To remember a year since the UK went into lock down, down conducted a reflective collective worship, in class.
Science Experiment - Digestion
This half term, Year four have been learning about our digestive system and how it works. We performed an experiment to see how food changed at each stage of digestion and to observe how the body extracts nutrients from the food that we eat.
Our Class Charity
This year Year 4's class charity is Caritas Diocese of Salford.
Who CARITAS Salford Are
Caritas Diocese of Salford is the official charity of the diocese, which reaches from Didsbury to Clitheroe. Their vision is that the lives of all people should be free from poverty, disadvantage and discrimination. Their purpose is to help the most vulnerable children, young people and adults in our communities to transform their lives and fulfil their potential.
What CARITAS Believe
They draw on over 100 years of experience in supporting vulnerable people in the North West as well as Catholic Social Teaching to inform our beliefs on charity and justice. Whilst their values and rights are applicable to all people, they place particular emphasis upon them in relation to those who are most vulnerable.
What CARITAS Do
Their service areas, range from professional services commissioned by Local Authorities to volunteer-led community projects that enable communities to get involved in actively helping and shaping their neighbourhoods. Through their services they aim to rapidly and effectively help children, families and vulnerable adults live fulfilled and happy lives, and to advocate for the rights of those who are not seen or heard.
Roman Day
Here are a selection of photos from our Roman day with Mr B. We learned all about the Roman names for a soldiers equipment, created a timeline of Rome's involvement in Britain, looked at Roman artefacts, practiced spear throwing and finished the day off with a Roman quiz. A great day was had by all.