Home Learning
Parents Please ensure you are signed up to Class Dojo, letters with log-in details were sent home with home learning packs. If you need these details again please contact me: sarah.scott@salford.gov.uk
Home Learning packs have been sent home to ensure your child can continue learning in the comfort and safety of their own home. We have outlined a timetable of work (see covering letter) and provided an overview for each subject on the front of their Topic book.
To provide structure in this unsettling time, please agree a timetable with your child so they know when they are expected to start their working day. Let them draw up their weekly timetable and plan for breaks and other activities you have planned together. Having a set place to work each day would be great to help them get into their new routine.
Year 6 have worked extremely hard since September covering all areas of the curriculum and we expect them to continue their efforts whilst at home. Lots of praise and encouragement will be needed as they settle into this home learning routine. This could also be an ideal time to have them learn new skills (eg. making their lunch, helping prepare tea, sewing) which could help prepare them for high school and beyond.
Thank you for your continued support,
Miss Scott
Useful websites your child can access to support learning:
BBC Education have produced a whole host of materials for KS2. Follow the KS2 link and then select either Maths or English. Each area usually has an information section for reading, plus an activity and then quiz which is marked online. Some aspects require a subscription.
http://www.bbc.co.uk/education
A site with both Maths and English based quizzes which are marked as you go along.
http://www.educationquizzes.com/ks2/maths/
A site with a range of information and questions – great for revision purposes!
http://www.icteachers.co.uk/children/children_sats.htm
A revision site based upon the old Key Stage 2 Tests but still contains lots of useful information for both Maths and English.
http://resources.woodlands-junior.kent.sch.uk/revision/
A site with links to old style Key Stage 2 Maths Papers, Maths Tutorials as well as Maths Games. Some of these games are linked to Memory and would therefore help pupils to retain key information.
http://www.online-maths-tutor.com/
Blockly
https://blockly.games
Learn computer programming skills - fun and free.
Scratch
https://scratch.mit.edu/explore/projects/games/
Creative computer programming
Ted Ed
https://ed.ted.com
All sorts of engaging educational videos
National Geographic Kids
https://www.natgeokids.com/uk/
Activities and quizzes for younger kids.
Duolingo
https://www.duolingo.com
Learn languages for free. Web or app.
Mystery Science
https://mysteryscience.com
Free science lessons
The Kids Should See This
https://thekidshouldseethis.com
Wide range of cool educational videos
Crest Awards
https://www.crestawards.org
Science awards you can complete from home.
Paw Print Badges
https://www.pawprintbadges.co.uk
Free challenge packs and other downloads. Many activities can be completed indoors. Badges cost but are optional.
Tinkercad
https://www.tinkercad.com
All kinds of making.
Geography Games
https://world-geography-games.com/world.html
Geography gaming!
Blue Peter Badges
https://www.bbc.co.uk/cbbc/joinin/about-blue-peter-badges
If you have a stamp and a nearby post box.
The Artful Parent
https://www.facebook.com/artfulparent/
Good, free art activities
Red Ted Art
https://www.redtedart.com
Easy arts and crafts for little ones.
Toy Theater
https://toytheater.com/
Educational online games
Twinkl
https://www.twinkl.co.uk
This is more for printouts, and usually at a fee, but they are offering a month of free access to parents in the event of school closures.
Additional websites to aid learning and keep children entertained:
Audible - listen to a fantastic range of children's stories - https://stories.audible.com/start-listen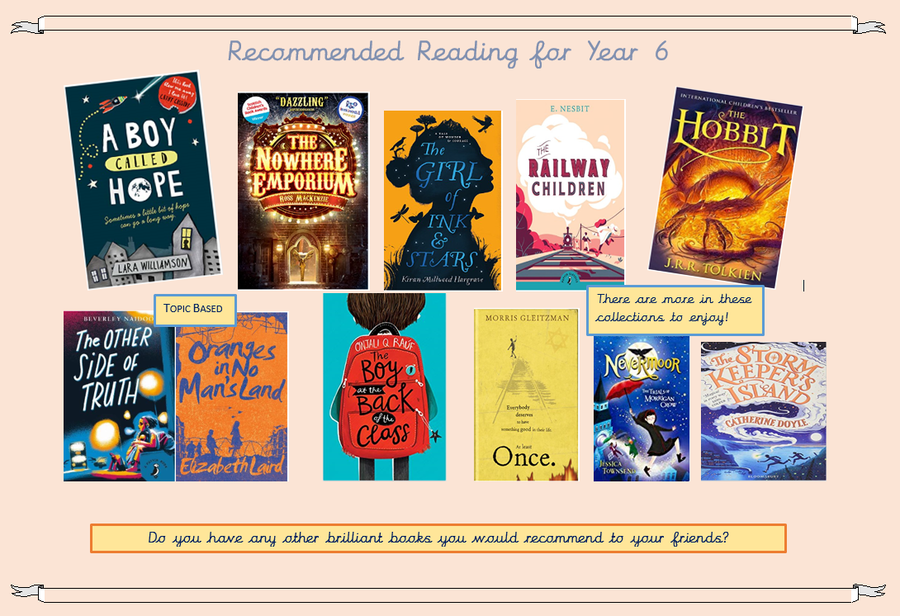 Artists in the making
We recreated a natural landscape in the style of Hokusai's 'The Great Wave'
Design Technology: We got our bake on!
We researched what types of bread already exist, looked at how they are marketed and decided to design and bake our own. A super tasty week!
Careers Week
We have learnt about the interesting roles of an animator a social media trainer. In addition to their job roles, we found out what it means to be self-employed and what this might involve.
Multi Faith Week
Each class studied a different religion over the course of the week to learn more about different religious practices and cultures of others.
Year 6 focused on Judaism and we even had a visit from Rabbi Feldman from Broughton Jewish Primary School. We appreciated the insightful discussion with children asking lots of brilliant questions.
Science Open Morning
Parents joined us for a science lesson based on our current topic: the human circulatory system. We conducted investigations to discuss osmosis and diffusion - it was a real sweet treat!
CAFOD World Gifts
Year 6 organised a KS2 football tournament and raised £48! As a class, we decided to buy a goat and a vegetable garden as we thought these gifts would benefit families long term.
What are we doing? We're Crucial Crewing!
Science: Visit to Buile Hill Park
We braved the mud to hunt for organisms in our local habitat.
Black History Month
Year 6 worked collaboratively to create this fantastic piece of art of the inspirational South African leader, Nelson Mandela.
Careers Week
We enjoyed insightful visits from Firefighters, an international marketing manager and businessman this week. Lots of opportunities to quiz them on their jobs and life in the working world!
International Slavery Museum
We started our Slavery topic with a visit to the International Slavery Museum in Liverpool. We gained a fascinating insight into what life would have been like for slaves in Africa.
Year 6 Assembly
Our first class assembly as Year 6. We learnt about the journey of our mother Mary and the annunciation. We linked our assembly to UNICEF article 5 which states that family is responsible to help you learn to exercise your rights and make sure your rights are protected. Article 18 taught us about different families and that we have the right to be brought up by our parents.
Collective Worship
Mr Pugh led a calming and spiritual collective worship with Year 6. We spent quality time reflecting on Jesus, the light of the world.