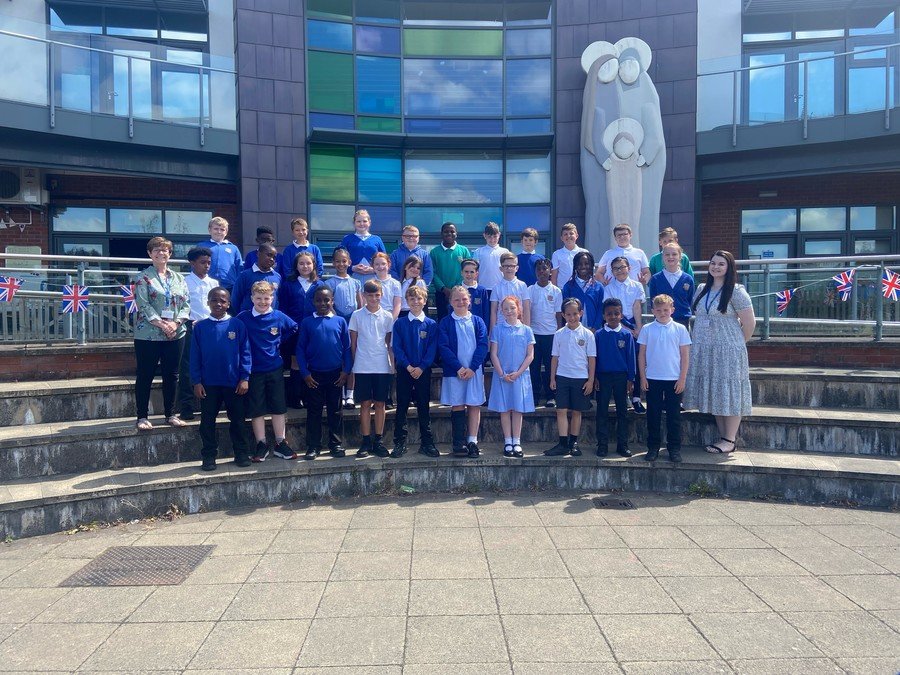 For science in Year 5 this half term we have been studying forces. Here are some pictures from our first two lessons; when the children played a game of 'tug of war' to test pull forces, and investigated the strength of forces in Newtons.
In lesson 3, Year 5 investigated the strength of air resistance by creating their own parachutes, dropping them from a height, and observing whether their egg survived the fall!
The Queen's Platinum Jubilee
To celebrate the Queen's Platinum Jubilee, Year 5 studied the 1960's artist Andy Warhol, and created a piece of artwork in his style. Here is some of our work.
The children then designed a crown and we did a procession of crowns on the MUGA with the whole school.
During Holy Week, Years 5 and 6 performed an assembly to demonstrate the fourteen stations of the cross, leading up to Jesus' crucifixion on Good Friday.
To raise money for Year 1's class charity, CAFOD, the children of Holy Family took part in a sponsored walk of the school grounds. Congratulations to all the children for their hard work, with some children completing as many as 28 laps of the school! Well done everyone.
Candlemas
Today we have spent time in class today reflecting on this special Feast day of Candlemas. This celebration always takes place on 2nd February every year- 40 days after the birth of Jesus. This is the day that Mary and Joseph presented Jesus at the Temple for the first time. When they arrived, an elderly prophet called Simeon was overjoyed to see Jesus. he had waited his whole life to see the Messiah. His faith in god was strengthened as he knew that Jesus had come to save us all.
In Class Five we celebrated this special day by holding a class liturgy and hailing Jesus as the Light of the World.
In Year 5 we are learning...
Year 5 Book Recommendations
Year 5 Class Charity

Lifeshare is a voluntary organisation established to help meet the needs of homeless and vulnerable people in Manchester and Salford. The first point of contact is with people on the streets, offering practical assistance, support and information. From this point they offer continued assistance that enables people to secure suitable accommodation, support them in maintaining their tenancies, and help them to access initiatives that carry their lives forward.
Their main objectives are to:
To identify street homelessness and offer assistance in obtaining emergency accommodation, signposting other relevant agencies and information for support.

To alleviate aspects of poverty and hardship through redistribution of resources.

To assist people to access health care and to promote health and harm reduction.
To find out more information, you can visit their website: www.lifeshare.org.uk