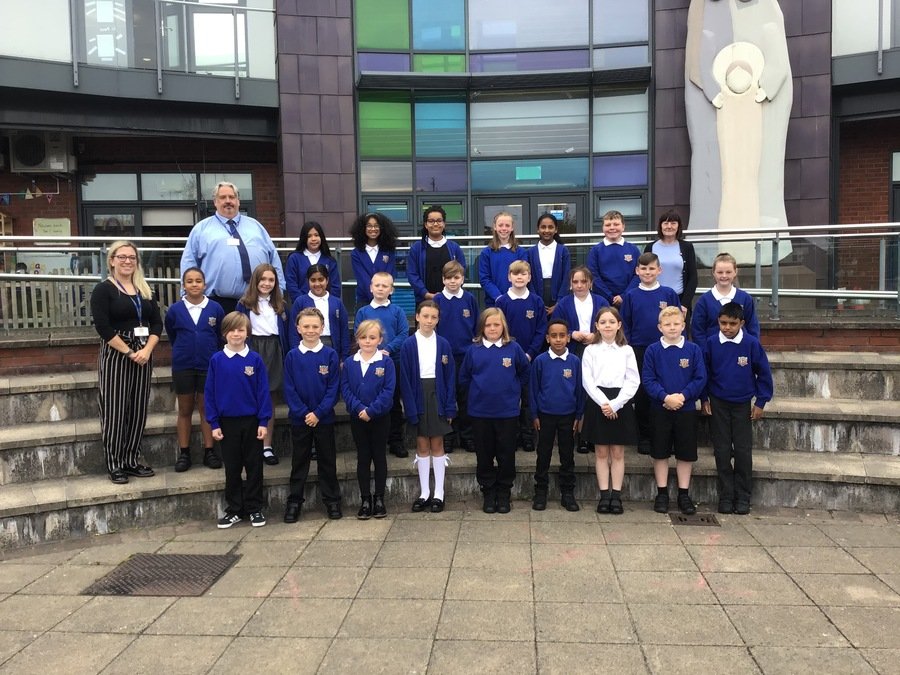 Stemazing Science- Air Propelled Rockets
Today Class Six were involved in a zoom science meeting with Mrs Beach from the National Stem Center. The children had a great time making rockets using straws and paper. They were then able launch their rockets using air pressure. The children really enjoyed the session!
During Holy Week, Years 5 and 6 performed an assembly to demonstrate the fourteen stations of the cross, leading up to Jesus' crucifixion on Good Friday.
World Book Day 2022
This year our pupils (and staff) had the option to dress as a character from a book, as an adjective or as a muggle. There were lots of brilliant costume ideas in our class and it was lots of fun being able to identify different characters around school during the day.
Lent Mass
Father Frankie visited school on Wednesday to deliver a whole school Mass to help us begin Lent celebrations. Some of our Year 6 pupils did a wonderful job at leading the readings.
Year 6 Recommended Reading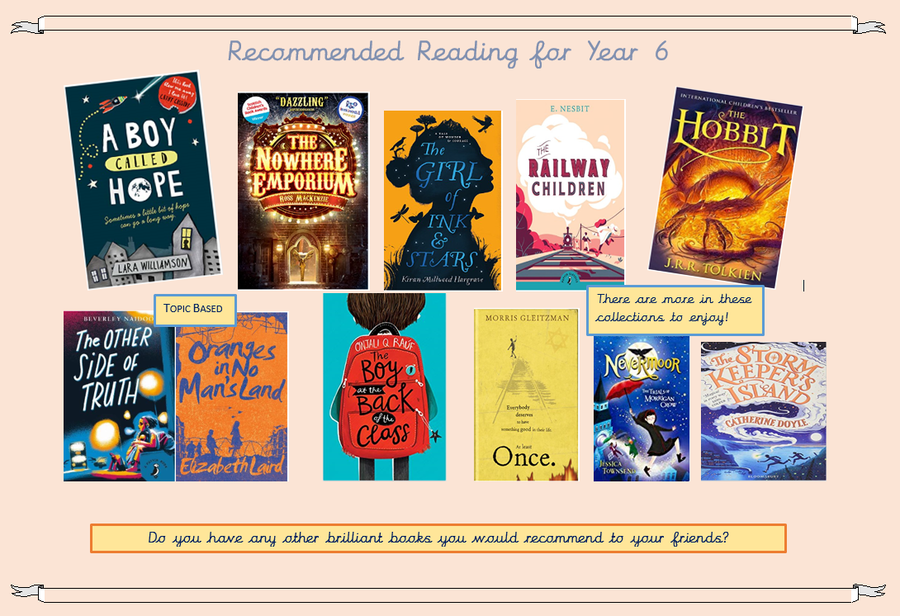 Year 6 Class Charity
The Good Life Orphanage was founded by Kevin and Mary Maguire following a family trip to Kenya. They are an inspirational couple who we look forward to supporting this year.
Safer Internet Day
Safer Internet Day is celebrated globally in February each year to promote the safe and positive use of digital technology for children and young people, and to inspire a national conversation about using technology responsibly, respectfully, critically, and creatively. This year, Safer Internet Day 2022 is on 8th February and is celebrated with the theme 'All fun and games? Exploring respect and relationships online'. We had fun exploring this theme by supporting an alien named 'Bob' learn how to be safe when gaming online. We then carried out role play scenes linked to how we can support our peers if they feel pressured online and what advice we could give to others who apply this pressure.
Feast of Candlemas
We celebrated Candlemas in class with a liturgy for this special day. Pupils in Year 6 delivered a beautiful service and spent time reflecting on God's love and the power of His light.
The Circulatory System
To summarise their learning from this term's Science topic, our class worked in groups to present the importance of the circulatory system. Each pupil had an active role and together carried out a presentation to explain the role of the heart and how blood, water and nutrients travel around our body.
Year 6 SATs Parents Meeting
We invited our Year 6 parents in (safely distanced) to explain SATs that are due to take place in May this year. Please find a powerpoint attached below if you were unable to make it.
Epiphany reflections
What is means for us
In class today we have reflected on the meaning of the Epiphany- that time when Three Wise Men came from the east to visit Jesus. The children thought about how the birth of Jesus changed the world order and why this frightened King Herod. We discussed how different life would have been if the King had found and murdered Jesus. We were thankful that this did not happen.
Our Class Assembly
We were privileged to start with the first class assembly of the school year and it was wonderful to have the rest of the school and parents to watch too! As September is Mary's birthday we highlighted her story and what she means to us.
Roald Dahl Day
We enjoyed a spot of dress up (teachers too!) for Roald Dahl Day. We learnt more about the fabulous children's author, and created our own characters and created a story about them.
Mary's Birthday
Happy Birthday Mary! As a class, we said a Hail Mary and reflected on our Mother Mary and her journey in life. We wrote birthday messages, prayer cards and our own prayers to Mary to give thanks for listening to us.